NAVIGATE YOUR GROWTH
GROUP COACHING PROGRAMS 
Have a look at our foundation programs
Our foundation leadership career development programs are designed to transform women leadership in the male dominated industries. Our aim is to help women to navigate their leadership career growth with ease and without fear of failure.
Our foundation business start-up programs are designed to encourage women entrepreneurs who would like to trade or operate in the male dominated sectors, to start their businesses immediately, in order to afford their next generations choices in their life's.
From My Experience, Knowledge and Wisdom to You, With Love.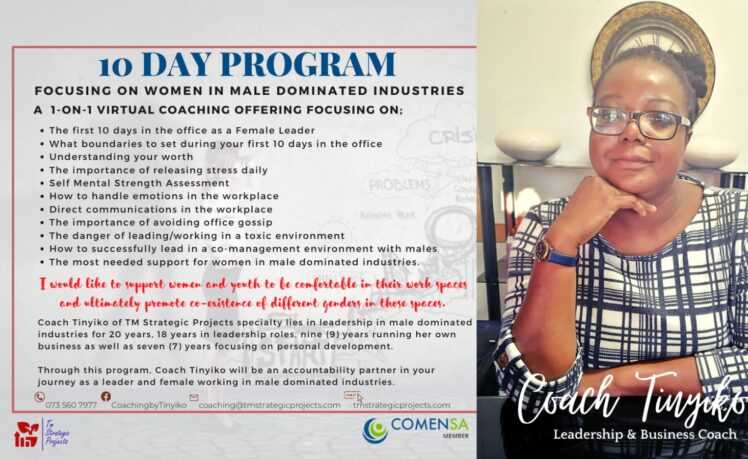 Get started with our 10 Days FREE Self-Leadership Program:
Tools to Assist Female Leaders to Settle During The 1st 10 Days in Office in Order to Bridge the Gap Between You and Your Leadership Career Before Getting Overwhelmed in Male Dominated Industries.
Free Self Learning Sessions:
1. What boundaries to set during your 1st 10 days in office
2. Understanding your self worth
3. The important of releasing stress daily
4. Self mental strength assessment
5. How to handle emotions in the work place
6. Direct communication in the workplace
7. The importance of avoiding office gossip
8. The danger of leading or working in a toxic environment
9. How to successfully lead in a co-management environment with males
10. The most needed support for women leading in male dominated industries
Note: All coaching services are conducted online
Want to know more about out programs?
10 Days Free Self-Leadership Program: TOOLS TO ASSIST YOU SETTLE DURING THE 1ST 10 DAYS IN MALE DOMINATED SECTORS AS A FEMALE LEADER/WORKER
Free 10 Days Self-Leadership Program Introduction
Free 10 Days Self-Leadership Program Day 1
Free 10 Days Self-Leadership Program Day 2
Free 10 Days Self-Leadership Program Day 3
Free 10 Days Self-Leadership Program Day 4
Free 10 Days Self-Leadership Program Day 5
Free 10 Days Self-Leadership Program Day 6
Free 10 Days Self-Leadership Program Day 7
Free 10 Days Self-Leadership Program Day 8
Free 10 Days Self-Leadership Program Day 9
Free 10 Days Self-Leadership Program Day 10